Today's day started with a nice breakfast in the hotel's restaurant, which was not exactly cheap but okay. Today I had planned to visit Hong Kong Island, especially Central, the commerce quarter, where I had not been yet.
From pure distance, it is around 1.5km on the map from my hotel to the IFC building, which hosts the largest building of Hong Kong (at the moment, a larger building is already being built). I neither wanted to walk nor take a taxi, so I had a genius plan: I could take the Star Ferry over to Sin Sha Tsui, where I had been yesterday, just switch Ferry and go back to Central Pier. Total coast: 4.4 HK$ plus the advantage that I do like those little ferries.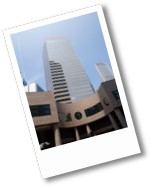 Said and done, I reached Central half an hour later, starting to wander around IFC and Exchange Square, looking around malls and other buildings. Pretty impressing moving alongside all those skyscrapers. After roaming around for around 2 hours I decided I'd definitely wanted to visit Hong Kong Park (like I had visited Kowloon Park yesterday). Riding several escalators and waking I reached the park about half an hour later (I did not have a lot of stress and did not hurry up). I was very impressed by the park. While the Kowloon Park resembles more of a entertainment park (without rides), Hong Kong Park seams more dedicated towards relaxing and meditation. There is a whole park inside the park called Tai-Chi park where a lot of people sit meditating or relaxing during their lunch break. There is also a 105-steps (30 meter) high Vantage Point which of course I climbed for taking some photos.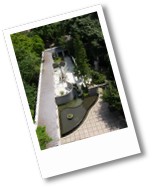 Afterwards I walked through the aviary, where several hundred birds live in a quite huge area. I played around with my tele lenses, but the camera at the moment is still better than me…
After again about an hour I walked via the former Government House (where a guard didn't want to let me take photos) and certain skyscrapers back to the Star Ferry where I took the same way back to my hotel which I had taken to get to Central: via Tsim Sha Tsui.
As I had been on my way for about 7 hours, I decided not to do a lot today evening, just enjoying the view of the skyline. For tomorrow I have booked a tour to the New Territories which will start at 8:30 from City Hall, so I'll need to get up at least 7am.
(A short side story for today: in the morning, a British Royal Navy Frigate had entered Victoria Harbour. I did not dare taking a photo of it, since every time I pointed my camera near it, two policemen standing nearby got a little bit nervous. And this is China after all…)